Nippon Kodo Incense
---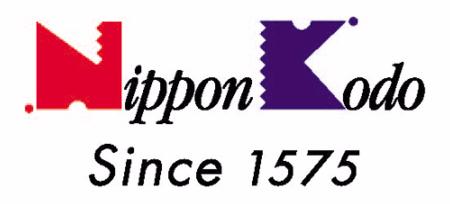 Nippon Kodo's guiding principle and main objective from its inception has been: "To Bring The Culture Of Incense To The World." And in so doing, to fill people's hearts with kindness and gladden their spirits and souls.
As the company's chairman,
Masahisa Konaka
is quick to point out, "Incense has the power to calm the mind and make life more enjoyable by creating a feeling of repose and tranquility, both physically and spiritually and also to perfume the environment in which we live."
Discover The Successful Nippon Kodo's Morning Star Incense
First established in Japan during the late 16th century (1575 CE), Nippon Kodo cherish the ancient traditions and values of incense production in combination with the development of more
contemporary fragrances and products. Their Morning Star range is a perfect exemple of their commitment to quality approach: composed of the finest natural elements and offering mixed fragrances, Nippon Kodo's Morning Star incense is still a global success.
---
All 21 varieties of Nippon Kodo's Morning Star incense


in boxes of 50 sticks + mini holder



£3.50 each





18 varieties of Morning Star incense
in boxes of 200





---
Nippon Kodo's Incense: a Wide Range of High Quality Products


Hence, you will find that Nippon Kodo's product range is large and varied, with a prior focus on quality product. With Vectis Karma stocking a broad range of their products (currently over 150 in number), there's something for everyone! Prices range from £3.50 to £57.95 per product. So, whether choosing by fragrance, traditional or contemporary recipes, sticklength or package style/size/price; Nippon Kodo from Vectis Karma offers you the best online choice of Japanese incense available.


---
13 items from the Mainichi Koh Quality Collection
and Tranquility ranges



£3.75 to £59.99





Items from the

Koh-Do range

- 26 varieties in total. 20 stick boxes all linked to larger quantity boxes so these are ideal for trying a new fragrance before

committing

to a larger box.



£3.75 each


---
Japanese Incense from Nippon Kodo since 1575 - available at Vectis Karma.


Nippon Kodo Japanese incense products offer you a broad choice of fragrance, stick sizes, bundle options with a wide range of price points.
£3.50 for many 'Everyday' products such as Nippon Kodo Morning Star incense

24 items in the Koh-Do range - £3.75 each offers great quality and value

Nippon Kodo 'Exceptional Quality' incense ranges up to £59.99

Many items sit between these 'highs and lows' in pricing - see Kayuragi as examples
You can also try both very traditional fragrances (for instance, Mainichi-Koh fragrance) and much more modern or contemporary recipes.